WITHERFALL
announce new album
"Sounds Of The Forgotten"
out May 31, 2024
–
New single & video "Ceremony Of Fire"
Photo By Stephanie Cabral Left to Right Gerry Hirschfeld (Keys) Anthony Crawford (Bass) Joseph Michael (Vocals) Jake Dreyer (Guitar) Chris Tsaganeas (drums)
 
Los Angeles-based dark melodic metal outfit Witherfall proudly presents their fourth full-length album "Sounds Of The Forgotten", out May 31st 2024 via DeathWave Records.

"We found ourselves writing really depressing, melancholy songs about how just disappointed we were with all the work we put into Curse of Autumn and then going through the pandemic," says frontman/songwriter Joseph Michael. "Before that, we thought nothing was going to stop us. Then, something did. We felt a bit defeated. So, that's how Sounds Of The Forgotten started. But we got out of that quickly. The songs we ended up writing were empowering. We have songs with negative emotions, but the overarching theme is moving forward and perseverance. That's the epitome of Sounds Of The Forgotten."

Witherfall also proudly present their new  single "Ceremony Of Fire".

"Ceremony of Fire is quintessential Witherfall", comments the band. "This song features elements that are cornerstones of the Witherfall sonic landscape from dark haunting hooks, to eclectic  musical twist and turns. For the fans of our debut album Nocturnes And Requiems you will be very pleased with this. The Video is a great representation of the lyrical theme. Filmed in part inside the ritual chamber at The Crooked Path in Burbank California, the video represents the harsh realities of the artists path."

"Come with me, to a clearing in the field before the dawn. In time you'll see the light, in a Ceremony Of Fire"

Watch the video for "Ceremony Of Fire" here: 
https://youtu.be/Y8UiY5n6LFc?si=2eTEVuBCmHIH8837
Many factors influenced and inspired Witherfall's approach to "Sounds Of The Forgotten". The album color theme conveys another side to Witherfall's fourth-album distress. Often associated with ambition, power, and regality, the Blake Armstrong (In Flames, Megadeth, Kataklysm, Harry Potter, Wednesday) cover art provides a view into and a visual counter to the music on "Sounds Of The Forgotten".
 

(album cover) 
Tracklist 
1. They Will Let You Down 
2. Where Do I Begin 
3. A Lonely Path 
4. Insidious 
5. Ceremony Of Fire 
6. Sounds Of The Forgotten 
7. Aftermath 
8. When It All Falls Away 
9. Opulent 
10. What Have You Done 

The upcoming album "Sounds Of The Forgotten" is available in different vinyl colors: 
Black (unlimited)
 Aftermath Twilight Purple (limited edition 250 copies)
Opulent Pearl (limited edition 100 copies)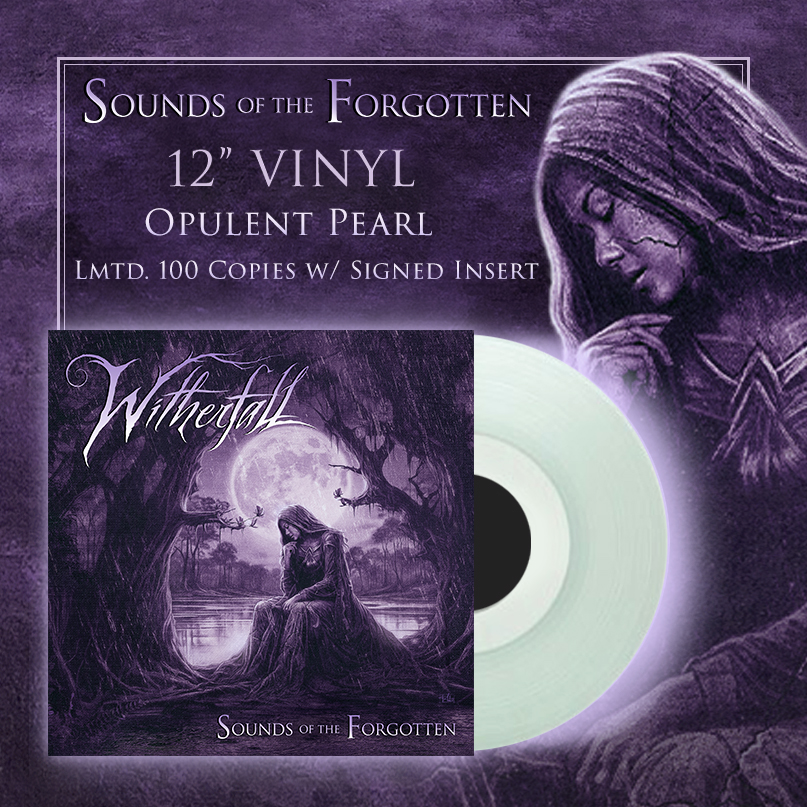 Pre-Order the album/Stream/Get Merch  here:  
https://www.witherfall.com/soundspresale
Witherfall was formed in Los Angeles in 2013. Joseph Michael (also of Sanctuary fame) and Jake Dreyer (ex-Iced Earth/Demons & Wizards) built their new band around drummer Adam Sagan (RIP) and accomplished bassist Anthony Crawford (Allan Holdsworth, CHON). Since then, the group have released three highly regarded albums: Nocturnes and Requiems (2017), A Prelude to Sorrow (2018), and Curse of Autumn (2021) and an ep Vintage (2019). Not one to cut corners, Witherfall enlisted famed drummer Marco Minnemann (The Aristocrats, Steven Wilson) on Curse of Autumn, ensuring the foundations of singles "As I Lie Awake," "The Other Side of Fear," and "The River" were second to none. On the upcoming album, Minnemann returns to the fold with an album-only appearance, while drummer Chris Tsaganeas (Wax Owls) and multi-instrumentalist Gerry Hirschfeld (Willie Nelson) Witherfall's newest permanent members.

Every Witherfall album is a defining moment. From the moment Nocturnes and Requiems thundered across metaldom to the group's wine endeavors (Tempest Red Blend) with Charlie & Echo Winery, their video collaboration with Cig Neutron (Devil's Workshop) on "The Other Side of Fear," a beer partnership with Adroit Theory Brewing Company (Shadows Black IPA), and custom Funko Pop set, Michael and Dreyer have made Witherfall their mission. The journey to this point hasn't been without toil and upheaval. Determination, however, is the key.

Witherfall are guitarist/songwriter Jake Dreyer, vocalist/songwriter Joseph Michael, bassist Anthony Crawford, drummer Marco Minnemann (recording only), drummer/percussionist Chris Tsaganeas, and keyboardist Gerry Hirschfeld.

DeathWave Records was created by Witherfall headmen Joseph Michael and Jake Dreyer as a vehicle for their music and other projects. Look for more exciting and trailblazing releases from DeathWave Records in the future.